An eight-page cover story in the latest Insight on Business turns to two NEWP members to provide our insights on the Fox River's value beyond manufacturing for those seeking recreation. After discussing the value of the river and how its system of 10 dams and 17 locks provided both transportation and hydro-power, the story quotes NEWP President Jeff Mazanec and member Dave Horst.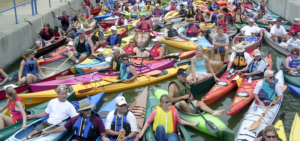 Among the recreationalists who would love to see [the] Menasha [lock] re-opened are Dave Horst and Jeff Mazanec of Northeast Wisconsin Paddlers (NEWP), a nonprofit organization that has attracted hundreds of novice and experienced kayakers from and to Northeast Wisconsin for lessons, trips and events like group paddles. These have included a re-creation of the Marquette and Jolliet expedition and a "Park to Park" event through the Fox Locks that, Mazanec said, at its peak saw 189 colorful boats fill a lock at one time. As part of its mission, NEW Paddlers today works with Fox Locks to advocate for river accessibility to paddlers.
Horst, a longtime community journalist, has studied and developed a personal passion for the Fox River's history.
"There's not much in life that's the same as it was 150 years ago," Horst says. "I just think everybody needs to experience what a gift the Fox River is to this region; you can do it in a kayak, you can do it in a motorboat or you can sit on the shore and just watch the river go by. It's out there for everybody to enjoy."
These days, one doesn't have to get in the water to enjoy the river. The Nelson Family Heritage Crossing between Little Chute and Kaukauna is one of the latest additions to an elaborate trail system that allows hikers and bikers to enjoy the riverfront.
FULL STORY
https://www.insightonbusiness.com/eedition/page-01/page_70f8a77b-f76b-5dae-a80d-1b2ec3145149.html
Direct to the article:
https://www.insightonbusiness.com/eedition/page-12/page_a127dbeb-d88e-53e5-a945-0373929e5c3c.html