JUNE 16-18, 2023: Two days exploring the High Falls and Caldron flowages
SATURDAY
Miles: 8.5
Challenges: Putting up with some of your fellow paddlers or being overcome by the natural beauty.
Meet: After 9:00 AM, ready to launch by 10:00 AM
Launch: Landing #13 (in Gov. Thompson State Park)
Lunch: Landing #12 (Or Landing #11 for short route); Pack a lunch.
Land: Back at #13
Note: A Wisconsin vehicle admission sticker is required to enter the park.
SUNDAY
Miles: 6
Challenges: May be some motorboat/ jet ski traffic in this area, and more natural beauty.
Meet: 9:30 AM, ready to launch by 10:00 AM
Launch: Landing #6 (Out-and-Back)
Lunch: Tony's Dockside Bar and Grill; Order at Tony's, or pack a lunch (they have outdoor tables).
Land: Back at #6
Fee: $15 per adult, $10 for NEWP members, for one or both days of this event (one fee covers the entire weekend). Under age 16, free with an adult.  Fee covers ACA event insurance and marketing costs. No one is paid. Any proceeds to the NEWP.
SAFETY FIRST

All participants must wear a personal flotation device (PFD or lifejacket) at all times while on the water.
No alcoholic beverages are allowed on the paddle or during lunch stops.
BOAT RENTALS

Members of NEWP can arrange to borrow a boat by contacting a member of the Board. Several boat rental businesses operate in the region.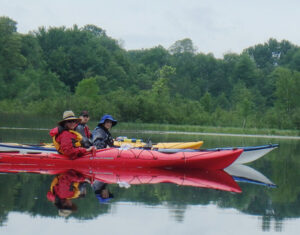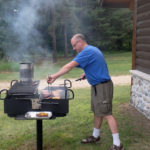 This has become an annual getaway weekend of paddling, camping and a big potluck barbecue. No, this isn't a whitewater trip. The flowage is where the raging "Pesh" is tamed into a beautiful lake surrounded by wilderness-like rocky beauty. Saturday we leave from Landing #13 and head to Landing #12, where the river enters the impoundment. After a stop for lunch, we head back to Landing #13 and the Tommy Thompson State Park campground. (Not into a long paddle? Our optional shorter route runs with the group from Landing #13 to Landing #12 and back. This shortens the paddle distance by 3 miles, including the upriver section.)
For those that are interested, we'll gather for a group brat and burger cookout at the Woods Lake picnic shelter, which is near the park office. We have reserved the shelter and will ask for a nominal contribution to cover the cost of brats, burgers, buns and basic condiments. Beyond that, please bring a side salad, dessert or other dish to share. 
Our SUNDAY trip will be a bit different prior year trips, as an out-and-back paddle from Landing #6 with a planned lunch stop at Tony's Dockside Bar and Grill. This will give us the opportunity to enjoy a more leisurely paddle in the beautiful upstream areas and also avoid a time-consuming shuttle.
CAMPING CLARIFICATION! Camping or other overnight lodging for this event is on your own. Governor Thompson State Park does not offer group campsite accommodations. Individual campsites may be shared, but there is a two-vehicle and six-person limit per campsite. RESERVE YOUR CAMPSITE EARLY – Wisconsin's campgrounds have been filling up early the past few years!
WHAT IF IT RAINS? We'll paddle in rainy conditions, unless a thunderstorm develops. If there is a threat of lightning, we'll get off the water and wait for the weather to clear. This may result in a delayed start to our paddle, or even an interruption in paddling once we are underway.