Kayak Essentials
Fox West YMCA-Greenville: One class meeting in three sessions, from 6:00 PM – 9:00 PM on Thursday evenings:
Kayak Essentials 1: January 11, 18 and 25
Fox Cities YMCA-Appleton: Two classes, each meeting for three sessions, from 1:30 PM – 4:30 PM (updated hours) on Sunday afternoons:
Kayak Essentials 2: January 28, February 4 and 11
Kayak Essentials 3: February 18, 25 and March 3
Class size limited to 10; registration through Fox Cities YMCA begins on _____ for Y Members and ______ for General Public. 
Rolls & Rescues
Fox Cities YMCA-Appleton: One class, meets in three sessions, from 1:30 PM – 4:30 PM (updated hours) on Sunday afternoons:
Rolls and Rescues Class D: March 17, 24 and April 7
Class size limited to 10; registration through Fox Cities YMCA will open in February, 2023.
Open Pool
Open pool sessions will resume concurrent with our 2024 class schedule at the Appleton YMCA, from 1:30 – 2:45 PM (updated hours) on those Sundays we hold scheduled classes: 1/28, 2/4, 2/11, 2/18, 2/25, 3/3, 3/17, 3/24 and 4/7.
What do you get for your registration fee?
Registration in NEWP's classes, hosted by the Fox Cities YMCA, includes three things:
The formal YMCA class, as described on this page.
Free open pool access, for all Sundays with classes scheduled at the Fox Cities YMCA in downtown Appleton. (See Open Pool above.)
Participation in our Student Outing weekend, which includes a whitewater outing on the Red River on the first Saturday in June and a coastal outing on the Manitowoc River – and possibly Lake Michigan – on the first Sunday in June. See our Student Outings page for details.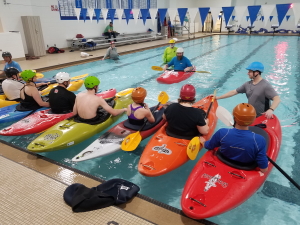 Our 2024 class schedule has been set! We've fit our Kayak Essentials Class into a 3-session format and will again offer a 3-session Rolls and Rescues Class. The 3-session format allows us to offer more, but smaller-size class opportunities.
Our Kayak Essentials class covers a solid introductory curriculum, mixing classroom time to discuss essentials that are difficult to present in a pool setting with in-pool instruction to learn wet exits, balance drills, paddle strokes and an introduction to assisted rescues. (Yes, some may attempt a roll or two!)
Our Rolls and Rescues class is for those individuals who have learned wet exits and bracing strokes and are ready to work on Eskimo roll techniques and a variety of solo and assisted rescues. We do ask that individuals who are not comfortable with wet exits and bracing strokes defer this class until they have developed those skills. 
Registration is available through the YMCA website. And be sure to check out our Student Outing weekend below, which is offered to all participants in our pool classes. You do not need to be a member of the YMCA or NEWP, Inc., to participate in our classes – all you need is your swimsuit and a smile!
Kayak Classes Overview / Background Information
Learn basic paddling skills, bracing strokes, rolls and rescues from our American Canoe Association-certified instructors. Kayaking in waves or rapids is serious business, so you need to know the proper techniques and use the necessary equipment to keep you and your group safe. Those who complete the class may join a summer student outing. We offer:
Instructors:
All of our classes are taught by ACA and/or BCU certified instructors along with qualified assistants.  We aim to provide a low student-to-instructor ratio, especially for the on-water portions of the classes.  Instructor backgrounds are available on our
About Us
page.
Kayak Essentials: Comprehensive class for people who have not had prior kayak skills instruction or would like to expand their skill set. Each session is split between classroom and in-pool instruction with a focus on skill development and safety, including wet exits, bow rescues, basic strokes, bracing, solo and assisted rescues. Our course outline is accessible here: NEWP Kayak Essentials Outline.
Rolls & Rescues: Participants must first complete the Kayak Essentials Class or have equivalent training approved by the instructor. This class teaches a variety of boat re-entry or rescue techniques and Eskimo roll skills. Rolls and Rescues Outline
Student Outing: NEWP caps off its indoor class season with an opportunity to practice your new skills on "real" water the first weekend in June! These events are for participants in NEWP classes in the current year and all other current club members. We offer both a whitewater outing and a coastal outing (on Lake Michigan).  NEWP Student Outing details.
Class Fees: Fee information is available at the Fox Cities YMCA website. The fee you pay is split between the host organization to cover the cost of the facility use and lifeguards, and by NEWP to purchase and maintain boats and other equipment. All instructors and assistant instructors provide their time and talent on a voluntary basis. The club currently maintains a fleet of nearly 50 whitewater and sea kayaks, plus all the assorted support equipment required to go with the boats.
How to Dress: Swim wear, aqua socks or appropriate footwear. A synthetic T-shirt or lightweight neoprene is optional for comfort in the pool. Shorts or leggings are recommended over regular swim suits that are "bikini style" to avoid abrasion from climbing in and out of the boats. Nose clips will be available to use. Boats, paddles and all other gear required for the class are provided by NEWP. 
Registration: Available online through the host YMCA, in person or through their online registration process. The classes are open to both YMCA members and non-members – all are encouraged to participate in the classes.
Open Pools: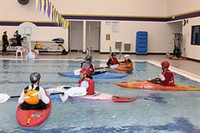 Available at the downtown Appleton YMCA for NEWP members and students on the same Sundays as when classes are scheduled at that location. Current-year students and current NEWP members are entitled to free open pool participation. Others are welcome with a signed ACA waiver and for a $10 fee.
NEWP boats and gear are available for use or participants may bring their own boats and gear into the pool if it is clean and free of debris. These general guidelines must be followed during open pool sessions:
Paddlers who are socializing or resting should either leave the pool or move to the side to allow other paddlers room to practice.
Be aware that the host facility life guard has ultimate control of the pool area; lifeguard instructions must be followed immediately at all times.
Personal boats and gear brought into the pool must be clean prior to entry, which includes removal of float bags for the pool session.
Boats must be in the water when entered, not "seal-launched" off the pool deck.