Come Paddle with Northeast Wisconsin Paddlers!
For a newcomer to kayaking, wouldn't it be great to take day trips with people who know the route, help you unload and load your boat, help you launch and land, and include certified kayak instructors in case something goes wrong? That describes NEWP's Publc Paddles.
NEWP's public paddle events have roots in the Fox-Wolf Watershed Alliance Special Places Program that offered paddles to the general public from 2000-08. Starting in 2009, NEWP partnered with the Fox-Wisconsin Heritage Parkway to host a series of paddles along the Fox and Wisconsin Rivers, and their tributaries. Currently, NEWP hosts paddle events throughout northeast Wisconsin to provide a variety of paddling experiences and venues, especially for newcomers to the sport.
Many individuals have voluntarily provided their time and talent to plan and host these events. The current core planning committee is David Horst, Tom Young, Scott Thomson and Jeff Mazanec. Several other individuals provide essential input to event planning and support of the actual public paddle events. Contact any of the above with questions or if you are interested in lending your expertise and support.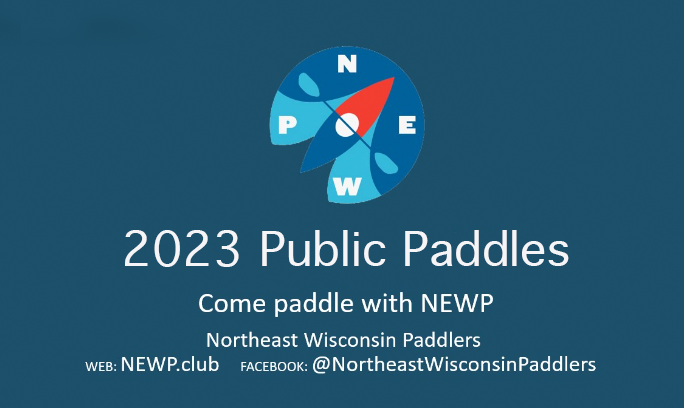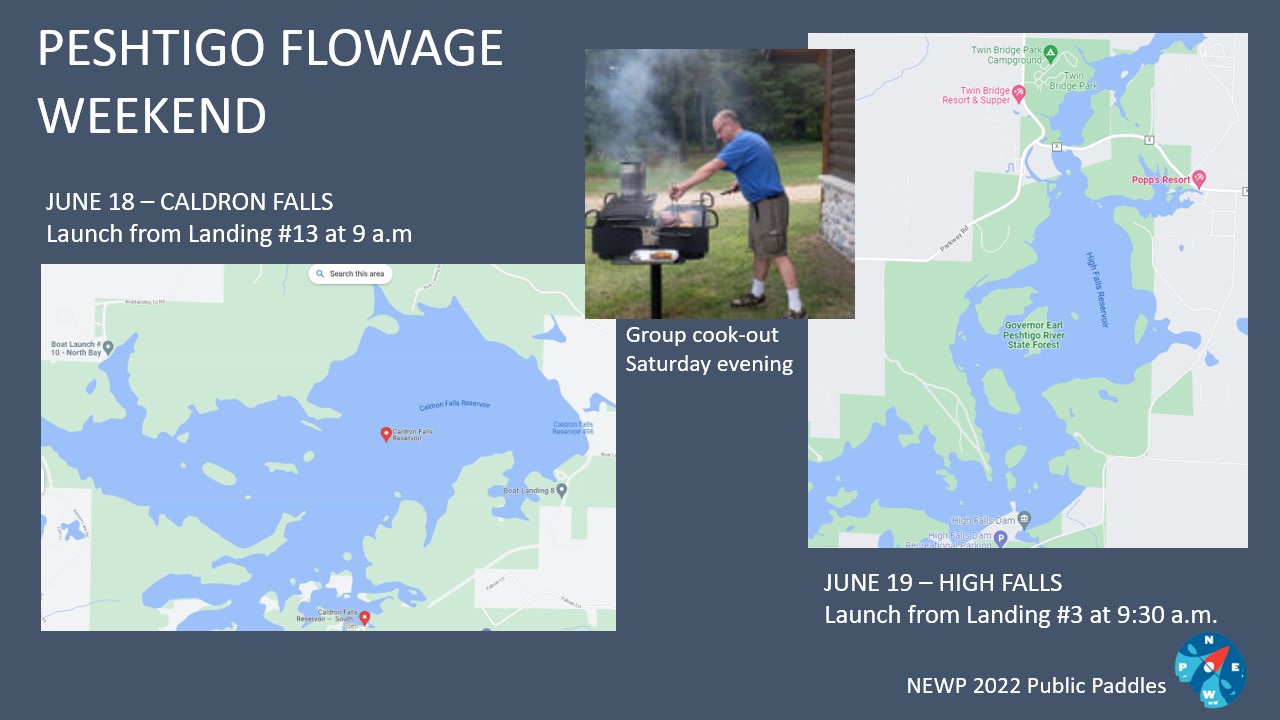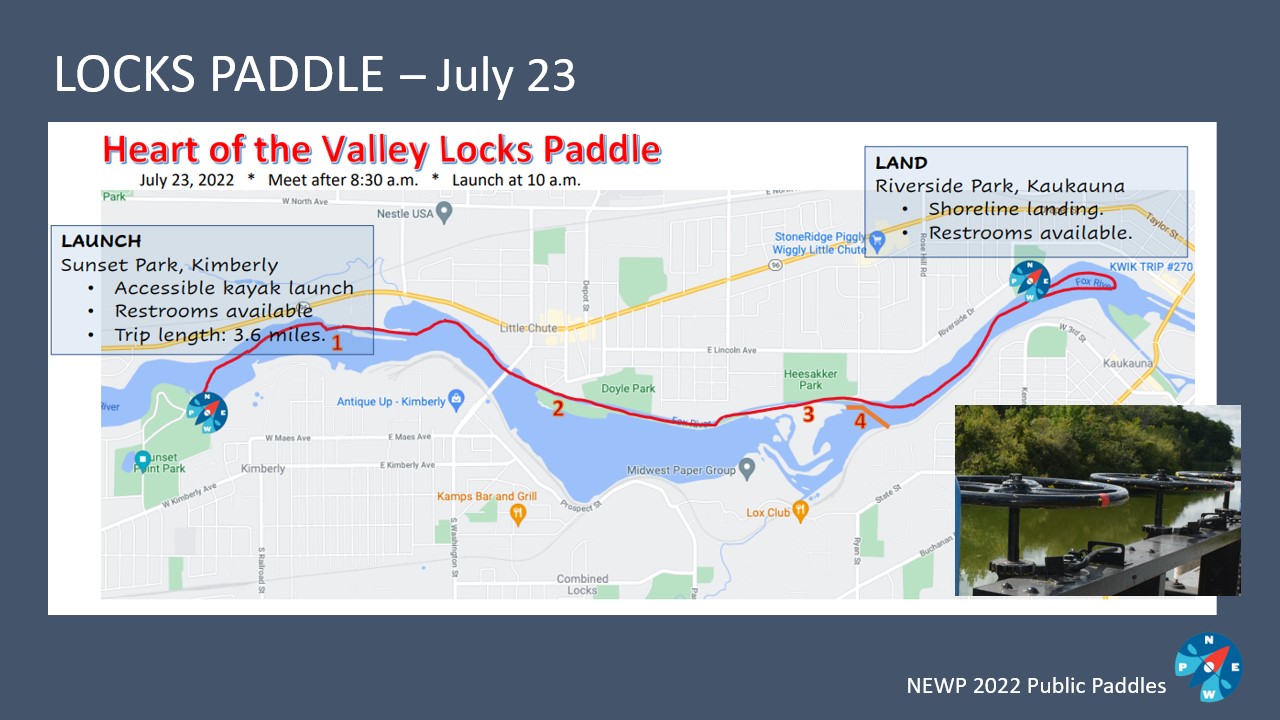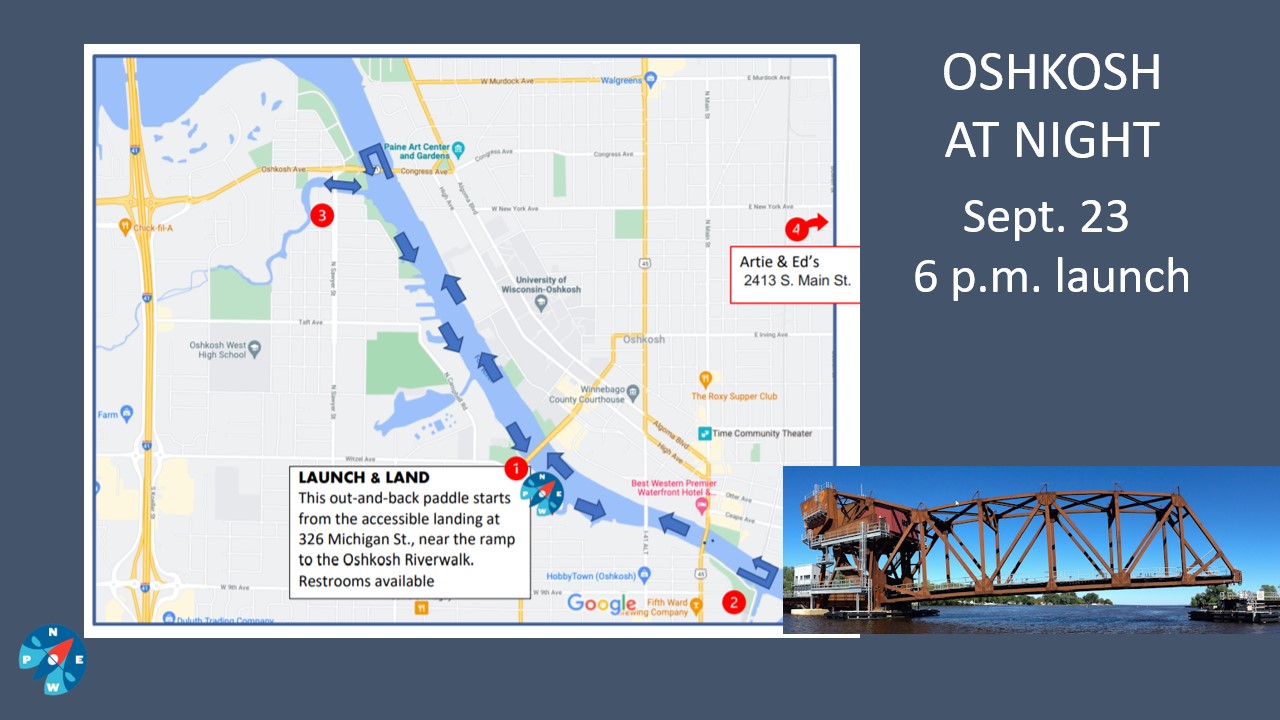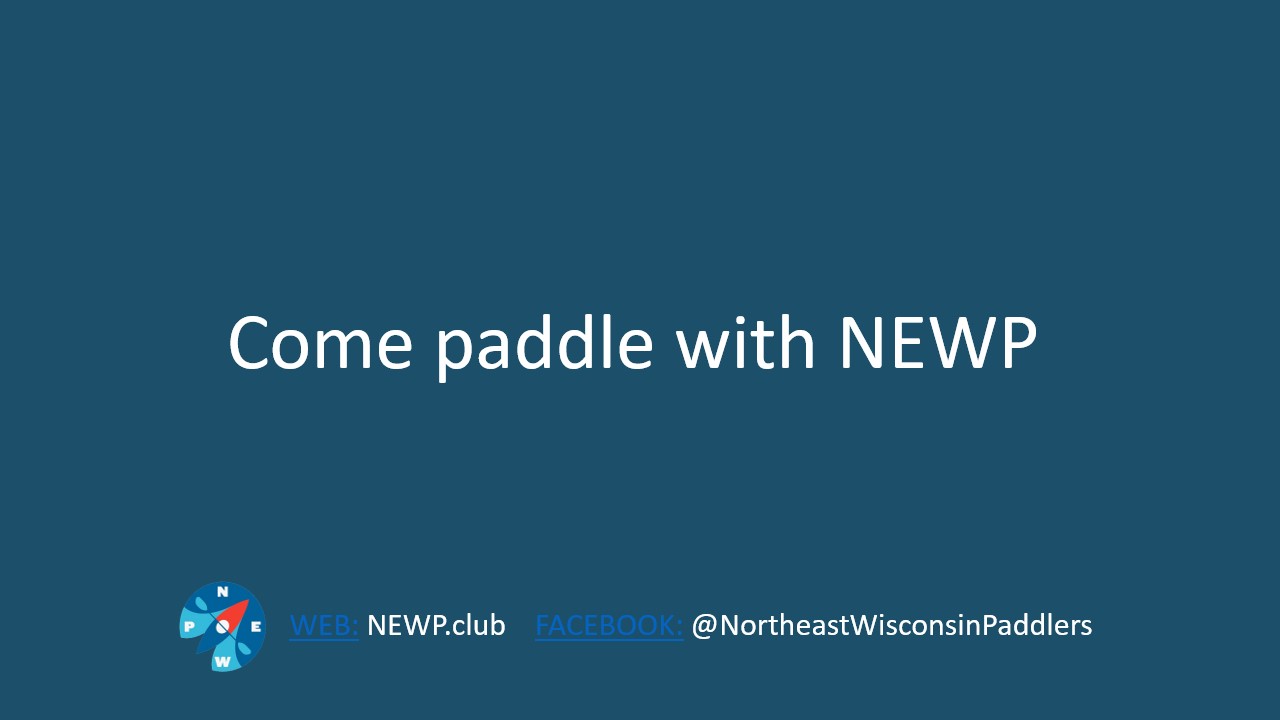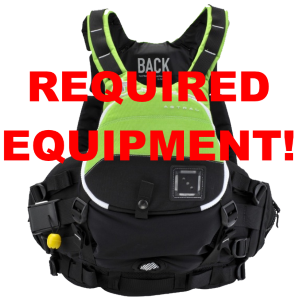 Join us for any or all of our public paddles. You don't have to be a club member, but you might discover that you want to be. Most events cost $15 for adults, free for kids under 16 with an adult. Only $10 for NEWP club members. You can just show up at the put-in with $15 in your hand, but we would like to know to expect you. And while you're at it, be sure to show up with your PFD (life jacket) – it's an absolute requirement for enjoying our sport!
Here is a list of our upcoming paddle events.
2023 Public Paddle Schedule
Our 2023 public paddle events combine new favorites with a couple old goodies! We'll return to our favorite section of the Upper Fox River this summer and repeat the Oshkosh Friday Night Lights paddle!
 June 16-18, Peshtigo Flowage Weekend: This will be our 8th annual weekend tour of the Caldron Falls and High Falls reservoirs. Friday night fish fry and camping at Governor Thompson State Park are a base part of this great paddle weekend. If conditions are appropriate, we'll enjoy a shared meal at the Woods Lake shelter on Saturday evening. Both days' paddle routes will be out-and-back – no shuttles required.
July 22, Upper Fox River Paddle: Over the many years we paddled sections of the Upper Fox River, we decided the Berlin to Omro section offered the best scenery and bird watching, too. We're headed back there in 2023 for another trip down the mighty Fox.
August 26, Appleton Locks Paddle: We are returning to our favorite Appleton Locks route, BUT with a back-up option to reroute to the Heart-of-the-Valley locks we enjoyed in 2022 if conditions aren't favorable between Appleton and Kimberly. A SCHOOL BUS SHUTTLE HAS BEEN ADDED. Drop your boat and gear at Lutz Park, drive your vehicle to Sunset Park and take the shuttle back to the launch at Lutz. When the paddle is over, your vehicle will be there waiting.