August 17-20, 2023; Kayak camping and paddling along the west shore of Green Bay
Miles: varies each day, paddlers chose 7 miles per day or 16.5 miles per day courses
Challenges: weather; long paddle days; Join one of our Practice Paddles prior to the trip.
Camping: J. W. Wells state park
Fee: $45 includes Saturday dinner and camp fee
NOTE: As of June 21, 2022, the campground group site is full.  If you would like to be placed on the waiting list, or join the group, but find your own place to camp, contact Mike Stone or Jodie Bartnik.
Register:
NOTE: You MUST be a current member of NEWP and ACA. To join, see the membership page.
Registration and payment options coming soon.  Please check back later.
SAFETY FIRST
All participants must wear a personal flotation device (PFD or lifejacket) at all times while on the water.
No alcoholic beverages are allowed on the paddle or during lunch stops.
Current Participant List:
(Please confirm your club membership status and complete the trip forms above.)
Julie Johnson
Jodie Bartnik
Keith Christ
Mike Stone
Ashley Barkow
Michael Jordan
Sue Nienhaus
__
__
__
__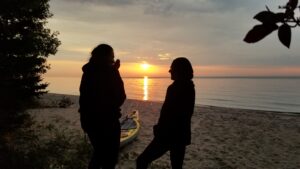 Join us for a thrilling adventure exploring this nearby and often overlooked magical part of our world. We will base-camp at Wells State Park in the Upper Peninsula of Michigan. Camping starts the night of the 17th. Over the next three days, we will paddle about 16.5 miles per day for a total of 50 miles of the Bay of Green Bay shoreline from Escanaba to Menominee, Michigan. For those who want a less-aggressive schedule, we will have 7 mile per day trips as well. This trip is limited to 21 NEWP members.
Activities and Features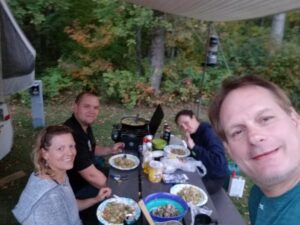 Crystal clear water
Sandy beaches
SAG Truck to pick up tired paddlers and gear
Kayak games
Group Dinner
Camping with showers
Epic trip
Stops at lovely parks along each day's travel
Kayak skill lessons
Close to home
Participant Qualifications and Preparation
To ensure participants meet fitness qualifications and equipment requirements, all participants must complete at least one two-hour group paddle. This will:
Expose the participant to the physical requirements of an extended crossing. We will be prepared to stay in the kayaks for each day's paddle.
Confirm each participant's ability to make the trip.
Verify that the kayak and equipment are suitable for a Green Bay trip.
Practice/test paddles are listed on the Practice Paddles page.
Other opportunities to paddle in "big water" conditions: