New paddlers or paddlers looking for new places to paddle can find some possibilities in the following list of past trips taken by NEWP. Another great resource to check out is www.MilesPaddled.com.

indicates restrooms available.
$ indicates launch fee charged
 Neenah to Appleton
MILES: 9
LAUNCH Shattuck Park, Neenah.    

LAND: Lutz Park, Appleton  

HIGHLIGHTS: The route includes short trips into Lake Winnebago and Little Lake Butte des Morts.  You also get to see one of the historic hand-operated Fox River locks. You have to portage around the Menasha Lock, thanks to a small, invasive fish called the round goby. The lock has been ordered closed to prevent the goby from moving upstream into the Lake Winnebago system. Fee charged to pass through the locks.
DIFFICULTY: Because of distance and open water, newbies might want to stay home.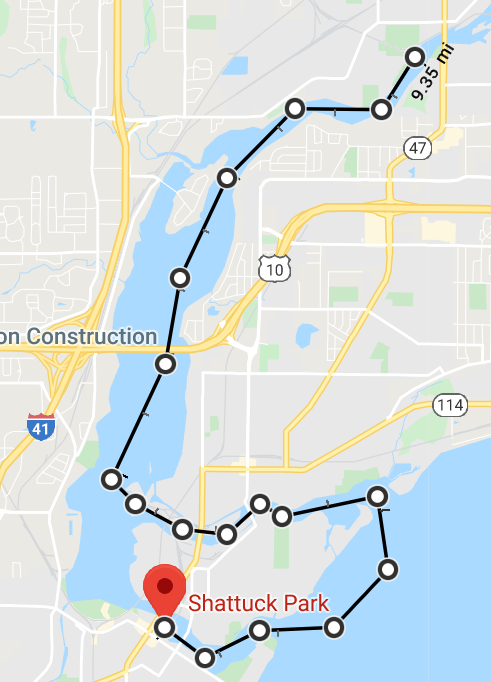 Lutz Park, Appleton-Sunset Park, Kimberly
MILES: 6.5
LAUNCH: Lutz Park, Appleton   

LAND: Sunset Park, Kimberly   

HIGHLIGHTS: Have the full lock experience by traveling through all four historic Appleton Locks. These hand-operated marvels of the 18th century move boats up and down the water depths as they did at the start in the mid-1850s. The 17-lock system covers a drop from Lake Winnebago to Green Bay almost exactly that of Niagara Falls. You also will paddle through Appleton's paper mill district. Many of the former manufacturing  buildings have been converted to housing with new construction taking advantage of the long-neglected riverfront.  Accessible launches are available at both parks.
DIFFICULTY: Easy, usually. This is the perfect paddle for a beginner because of the short length and frequent stops. However, in times of high flow the power of the draw into the dams CAN BE EXTREMELY DANGEROUS. Check flow on U.S. Army Corps of Engineers site. NEWP doesn't paddle when flow exceeds 6,000 cfs. The area between Locks (Lawe St.) and Lock 4 (under College Ave. bridge) is where a substantial current draws boats toward the dam.
Bomier Landing to Green Bay Muni Landing
MILES: 8
LAUNCH: Bomier Landing, De Pere   

 $
LAND: Green Bay Municipal Landing   

  $
HIGHLIGHTS: This paddle starts across the river from the St. Norbert University campus. You quickly arrive at the De Pere Lock, where the lock tender walks around a circle turning the crank that opens the lock gates. He opens the valves and lowers you the last bit to the level of the bay of Green Bay. Paddle through downtown Green Bay and check out the waterfront activity and new waterfront development.
DIFFICULTY: Easy
Marquette to Princeton
MILES 12.2
LAUNCH: Lyons Street Boat Ramp in Marquette, WI.  

LAND: Princeton Dam Lock Road
HIGHLIGHTS: Lots of marsh with high banks.
DIFFICULTY: Intermediate for distance and lack of early take-outs.
Berlin to Omro
MILES: 13.75
LAUNCH: River Side Park, Berlin   

LAND: Miller Park, Omro    

HIGHLIGHTS: Perhaps the most beautiful section of the Fox. Undeveloped and ag properties line the river. Great birding, especially large birds such as sandhill cranes, great blue herons, egrets, bald eagles, osprey, hawks and kingfishers.
DIFFICULTY: Intermediate because of distance.
Omro -Terrell's Island – County Landing
MILES: 13
LAUNCH: Miller Park, Omro.  

LAND: Lake Butte des Morts County landing  

  $
HIGHLIGHTS: After paddling a relatively narrow channel of lily pads, you circle around a man-made enclosure used to study fish and the many species of birds found here. The DNR built small islands to encourage white pelicans and cormorants, but then shaved them back down because they worked too well.
DIFFICULTY: Moderate.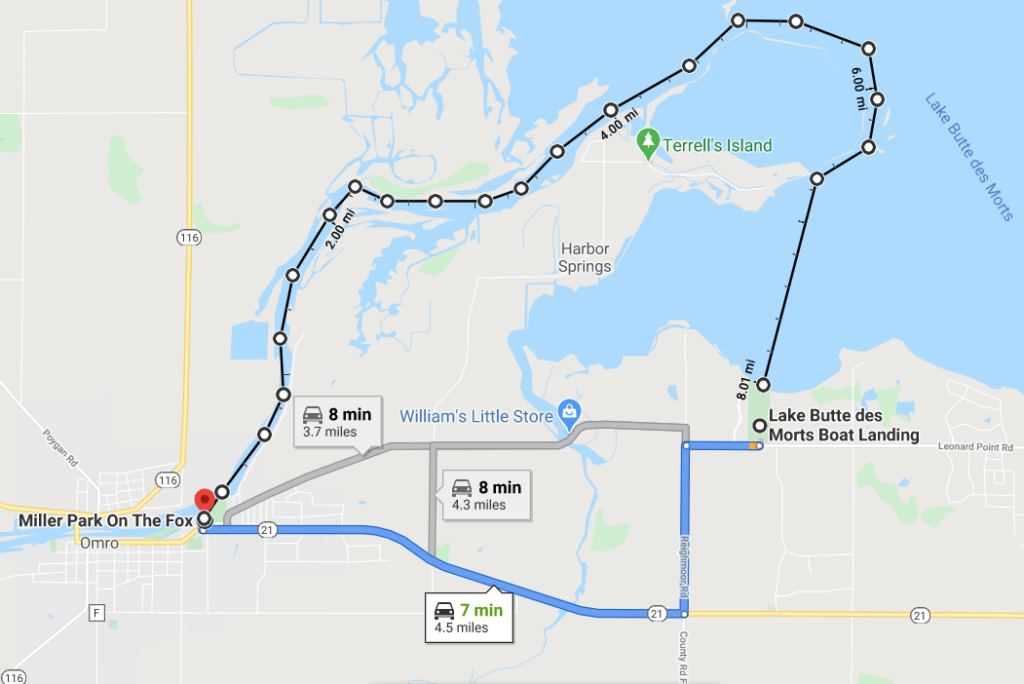 ELSEWHERE IN N.E. WISCONSIN
Waupaca River: CTH Q to Brainard's
MILES: 6.5
LAUNCH: County Hwy Q boat ramp west of Waupaca. Park, Berlin (restroom not available)
LAND: Brainard's Bridge Park (restroom available)
HIGHLIGHTS: The route includes several areas of low level rapids. The final drop is the most challenging.
DIFFICULTY: Experienced paddlers only. Rapids and snags are challenging. Many participants in the club trip capsized that day.
Waupaca Lower Chain
MILES: Variable
LAUNCH: Knight Lane Landing
LAND: Out-and-back to Knight Lane Landing
HIGHLIGHTS: Tour the calm and beauty of the upper chain where no-motor lakes give you the beauty of the Waupaca lakes with less noise and smell. Venture into the larger, motorized lakes if you choose.