If you have not paid your $10 and completed an ACA waiver, please click here.  If you signed up for both outings, you only need to pay/sign once to cover both outings.
Meet at the Red River put-in.
Launch Site: 9 a.m. on Lower Lake Road at the Red River crossing, southeast of Gresham. We'll start with introductions and a safety briefing.
Current Whitewater Outing Participant List
Ken Braband
Shawn Gordon
Adam Westmoreland
Stacy Westmoreland
Gabby Westmoreland
James Ulrich
Erin Schmitz
Kari Gasall
Russell Sabo
Cliff Henning
Mike Brown
Tom Wood
Tina Wood-Wentz
Meet: 9 a.m. Be unloaded and ready to go at the Manitowoc YMCA parking lot at 205 Maritime Dr, Manitowoc, WI 54220.
Launch: After introductions, and a quick review of safety information and trip plan.
Lunch: NEWP will host a group lunch at a nearby Manitowoc venue for participants.
Current Coastal Participant List
Erin Schmitz
Kari Gasall
Jeff Mazanec
Josh Taylor
Tana Taylor
Northeast Wisconsin Paddlers caps off its winter classes season with an opportunity to practice your new skills on "real" water! These events are for participants in NEWP classes in the current year and all other current club members. NEWP offers the use of its whitewater or sea kayaks and related gear and provides qualified instructors to guide participants through the event. These outings are an extension of our classes and not open to friends or family members who have not taken our classes – we focus on building on skills learned in the classroom setting. All NEWP club members and instructors are also encouraged to participate.
All participants must provide a fully completed ACA waiver before the event.  If you are a current ACA member, be sure to note your ACA member number on the form. There is no cost for current ACA and NEWP, Inc members, but there is a $10.00 fee for ACA nonmembers to cover event insurance costs. Check our Membership page for information on becoming a member. Use of club boats and gear is free for any student who needs it.
Whitewater Student Outing
Saturday, June 3, 2023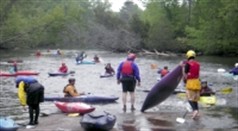 Students can sharpen their skills by taking on the Red River near Gresham with experienced whitewater paddlers. Pre-registration IS required. Contact your class instructor with any questions. Please complete and submit the form below by May 30 so we can collect the equipment you'll need for the day.  Ken Braband ([email protected]) will lead the whitewater student outing.
Sunday, June 4, 2023
This flatwater paddle will launch into the Manitowoc Harbor from the YMCA parking lot in downtown Manitowoc and will be led by several experienced NEWP instructors and paddlers.
The outing will begin with a trip up the Manitowoc River followed by a paddle into the harbor and Lake Michigan, if lake conditions are acceptable. Participants are welcome to enjoy some after-paddle non-digital social networking at a great local pizza or barbecue venue! ALL participants must complete and submit the registration form by May 30 so we can collect the equipment you'll need for the day. Jeff Mazanec ([email protected]) will lead the coastal student outing.