What: NEWP's 2023 Annual Meeting – open to the public and IN PERSON!
When: November 12, 2022
(Yes, we moved it to early November this year!)
3:00 pm Annual Meeting and Election of 2023 Board of Directors
4:00 pm Feature presentation
Family style dinner to follow
Where:
The Richard Mauthe Center
2418 Leon Bond Dr
Green Bay, WI  54311
(on the UW-GB campus)
Dinner Cost: $20 per person, $10 for ages 12 and under (only for dinner)
Pre-register with the button above to let us know you're coming!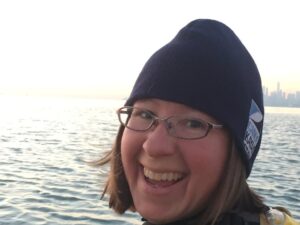 The featured speaker for the 2023 annual meeting is Andrea Knepper. Andrea is the Founder and Executive Director of Chicago Adventure Therapy (CAT), and the 7th American woman to earn the British Canoeing 5 Star Advanced Sea Leader Award.
In 2019 she took a three month sabbatical from CAT to paddle the length of the Pacific Coast of this country, from Canada to Mexico. Andrea will share stories from her expedition and from working with marginalized communities in Chicago, and reflections and insights about the connections between those two seemingly disparate paddling experiences.
The annual member meeting will begin with an overview of NEWP's 2022 activities, election of our 2023 officers, and a preview of our upcoming activities followed by our feature presentation and an excellent family-style dinner. (Not to mention plenty of time to make paddle plans with your old and new paddle buddies!)
Register now to attend the annual meeting!