What: NEWP's 2024 Annual Meeting – open to the public.
When: November 11, 2023
(Yes, we moved it to early November again this year!)
3:00 pm Annual Meeting and Election of 2024 Board of Directors
4:00 pm Feature presentation
Family style dinner to follow
Where:
The Richard Mauthe Center
2418 Leon Bond Dr
Green Bay, WI  54311
(on the UW-GB campus)
Dinner Cost:
$20 per person, paid in advance
Free for ages 12 and under
$25 paid at the door
Pre-register with the button above to let us know you're coming, even if not joining us for the dinner!
Registration and payment options will be available when the next meeting has been scheduled.  Please check back later.
Pay for the dinner (if you have not already)
NEWP 2023 Annual
Meeting Overview

NEWP 2023 Annual
Meeting Minutes
(DRAFT)
NEWP 2022 Annual
Meeting Overview
NEWP 2022 Annual
Meeting Minutes
2024 Annual Meeting
The featured speakers for the 2024 annual meeting are Marit Haug and Sandra Newbury. Both are well known in the Wisconsin paddling community and will share their unique passion for paddling sports with us.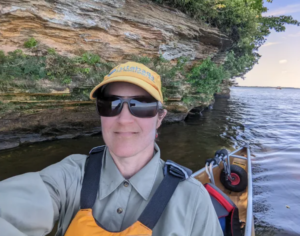 The featured speakers for the 2024 annual meeting are Marit Haug and Sandra Newbury.
Marit's presentation, "Paddling the Wisconsin River," will recount her journey down the Wisconsin River in 2022 and how it helped her find solace and challenge in nature while honoring the memory of her late husband, Jake Stachovak.
Marit is an avid outdoor adventurer who has been heavily involved in the paddle sports industry for over twenty years, and is certainly a familiar face for many of you who have attended Canoecopia, past Door County Sea Kayak Symposia or Rutabaga Outdoor Programs.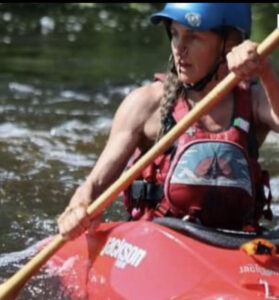 Sandra's presentation is titled "Whitewater: What We Bring to the River."
Join Sandra Newbury – Owner of Northwoods Outdoor Center and ACA L4 Whitewater Instructor Trainer – as she shares what's upcoming and exciting about whitewater paddling in Wisconsin.
The annual NEWP membership meeting will begin with an overview of NEWP's 2023 activities, election of our 2024 officers, and a preview of our upcoming activities followed by our feature presentation and an excellent family-style dinner. (Not to mention plenty of time to make paddle plans with your old and new paddle buddies!)
Register now to attend the annual meeting!