2024 Dates Reserved for Rock Island State park Group Campsite 1: 6/9 - 13/2024.
June 11-14, 2023; Kayak camping and paddling near and around Rock Island State Park
Miles: varies each day
Challenges: weather; packing ALL gear into kayaks; possible long paddle days
Fee: FREE! NEWP is covering the cost of the group campsite.  Meals and other costs are your responsibility.
Register: NOTE: You MUST be a current member of NEWP and ACA. To join, see the membership page.
SAFETY FIRST
All participants must wear a personal flotation device (PFD or life jacket) at all times while on the water.
No alcoholic beverages are allowed on the paddle or during lunch stops.
Current Participant List:
(Please confirm your club membership status and complete the trip forms above.)
Ken Braband
Dean Wegner
Michael Stone
Alison Dallich
Hether Hoffman
Dan Dallich
Matthew Ashauer
Greg Ramsey
Jodie Bartnik
Michael Bartnik
Abby Ledvina
Joanne Gorski
Mike Bors
Sandy Oliver
Ashley Barkow
Christine Chabot
Deb Miranda
 
 
 
(Mary Braband and Renee Dallich are planning to paddle over daily from Washington Island.)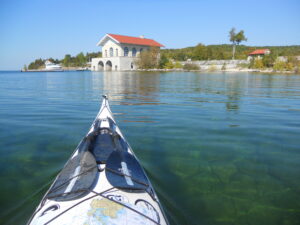 We're going back! Join us June 11-14 (Sunday to Wednesday), 2023 for camping on Rock Island, one of Wisconsin's most beloved state parks, where no vehicles or bicycles are allowed.  Once again we have group campsite #G1 reserved. Enjoy kayak day trips, hiking, and touring the historic boat house and Lake Michigan's oldest lighthouse. You will need to provide your own sea kayak with water-tight compartments fore and aft (sorry, no recreational kayaks or canoes), kayak gear, camping equipment and food. Optional group meals may be arranged. All participants will need to register in advance. To register, click the "Count Me In" button in the left column.
This event is for NEWP members only (joining is easy!). An ACA waiver is also required. This trip is limited to 25 campers. Priority will be given to NEWP members who will kayak to the island. NEWP members who don't wish to kayak to Rock Island but want to camp at the group camp can be put on a wait list. 
The Route: Drive to the northern tip of Door County (Northport, WI) and take the Washington Island Ferry. Once on Washington Island, drive to Jackson Harbor. Park your vehicle at the Rock Island state park campground parking lot at 1924 Indian Point Rd, Washington Island, WI. From there, paddle approximately 1-1/2 miles to Rock Island.
Kayakers who wish to paddle together as a group from Washington Island to Rock Island should arrive at the Northport car ferry station no later than 11:00 a.m. You'll need adequate time to board the car ferry, drive across Washington Island and pack your kayak so you're ready to paddle to Rock Island by 2:00 p.m. We'll land to the right of the stone boathouse and carry our camping gear from there to group site G1.
Questions? Email trip leader Ken Braband
Trip Leaders: Ken Braband, Dan Dallich
Trip leaders will have authority over all participants on water trips or activities.
If the trip leaders believe that due to weather or water conditions it is unsafe to proceed with a trip or activity, they may restrict or cancel that trip or activity.
Water Crossings, Trips and Activities:
After arrival on Rock Island, before launching any on-water activities during this event, participants must notify the trip leader with a float plan (written or oral).
Equipment:
Trip leaders have final approval of all kayaks and equipment.
All kayaks, equipment and clothing must be suitable for Lake Michigan paddling. Recreational kayaks, SUPs, canoes, and kayaks with only one bulkhead are not suitable.
Kayaks must have flotation or bulkheads, deck-lines and be fitted with spray skirts. If the kayak does not have bulkheads, the use of and knowledge of how to use sea socks is required.
Inflatable PFDs are not acceptable for this trip.
Safety equipment and training:
Practice self and group rescues; review the video Cold Water Boot Camp.
Acquire and become familiar with safety equipment such as paddle floats, radios, tow ropes, spare paddle, etc.
Although night paddling is not planned, paddlers should be prepared with a white light flashlight or headlamp.
Paddle Clothing – Lake Michigan is COLD!
Bring suitable cold water paddling gear, wetsuit, dry suit, splash jacket, gloves, etc.
Dress to confidently function in cold weather and in case of cold-water immersion.
Alcohol and Drugs:
NO ALCOHOL CONSUMPTION WILL BE ALLOWED BEFORE OR DURING PADDLING.
NO ILLEGAL DRUGS WILL BE ALLOWED.
Meals and Camping: Participants are responsible for their own camping and cooking.
All Park camping rules must be followed. Specifically no burning of garbage, cigarette butts or other waste is allowed in the fire area.
Trip Goal: The trip goal is to have a fun, safe outing by paddling together. Due to possible weather and wind conditions on Lake Michigan, there is no guarantee that events or activities will happen as planned. Participants must be flexible and be prepared for changes in events and timing. If a participant's ability, kayak or equipment is deemed not suitable for Lake Michigan, the person will not be allowed on the trip. All participants must have and wear a PFD (personal flotation device) while paddling.
Trip Registration:
See the "Count Me In" button in the left column.
Participants Must:
Be a current ACA and NEWP member.
Have taken a NEWP class or be known by one of the lead paddlers to have the requisite skills and training for the planned trip.
Complete the event registration (see the "Count Me In" button above) and ACA waiver.