August 26: Lutz Park in Appleton to Sunset Park in Kimberly.
A SCHOOL BUS SHUTTLE HAS BEEN ADDED. Drop your boat and gear at Lutz Park (early), drive your vehicle to Sunset Park and take the shuttle back to the launch at Lutz. When the paddle is over, your vehicle will be there waiting.
Distance: 4.6 miles
Challenges: High flow can cause concerns. It is a relatively short paddle with time to rest in each lock.
Meet: After 7:30 AM at Lutz Park in Appleton. Drop boats, gear and passengers at Lutz Park. Drive your vehicle to Sunset Park in Kimberly and ride the school bus back to Lutz Park. The school bus will make two trips; leaving Sunset Park about 8:15 AM and about 9:25 AM. 
Launch: 10:00 AM; Lutz Park, Appleton
Land: Sunset Park, Kimberly
Fee: $15 per adult, $10 for NEWP members paid at the launch site. No charge for participants under age 16 with an adult. Fee covers ACA event insurance, marketing and lock costs. Any net proceeds support NEWP's ongoing programs. NEWP is a 501(c)3 non-profit all volunteer organization.
SAFETY FIRST

All participants must wear a personal flotation device (PFD or lifejacket) at all times while on the water.
No alcoholic beverages are allowed on the paddle or during lunch stops.
BOAT RENTALS

Members of NEWP can arrange to borrow a boat by contacting a member of the Board. Several boat rental businesses operate in the region.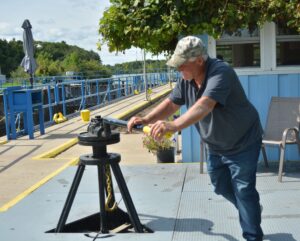 The Appleton Locks Paddle gives you a view from the inside of the only restored, hand-operated locks system in the nation. We pass through all four Appleton locks, which date back to 1856. Learn more about the locks.
If the flow rate is too high for novice paddlers to handle the Appleton locks safely, we will relocate downstream, launching at Sunset Park in Kimberly and landing at Riverside Park in Kaukauna.
Save time at the launch by filling out the American Canoe Association ADULT WAIVER FORM or CHILD WAIVER FORM in advance and have the correct amount of cash or a check to pay the event fee.