Maybe it was the lasting glow from the early summer-like temperatures or the need to get outdoors after two years of seclusion, but this year's Northeast Wisconsin Paddlers Gear Swap packed in the potential shoppers to the volleyball court at The Bar on Lynndale Drive April 22.
"I would say it was our best turnout in several years." said NEWP Secretary Scott Thomson.
It was a chance to mix bargain shopping with informative seminars and renewal of floating friendships.
No one was digging or spiking on these sandy courts. They were occupied instead by a row of boats ranging from plastic to fiberglass to wood and from sea kayaks to whitewater boats. A handful of vendors offered used wetsuits, guide services and artfully crafted paddles.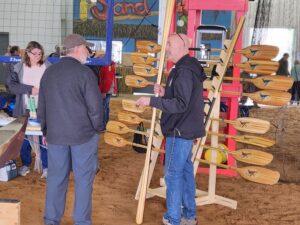 One of those paddles, handmade at Humpback Kayaks & Paddles in New Lenox, Ill., and bearing the NEWP's logo, was the top draw for the raffle. The winner could choose either a thin, sleek Greenland paddle or the conventional broader European style. Either is custom-made incredibly light, crafted from basswood and cedar with fiberglass edge protection. The winner of the drawing was Jeff Williams who chose a Greenland paddle.
Winners in the silent auction were:
Jessica Barry for a whitewater clinic at North Woods Outdoor Center.
Jeff Mazanec, NEWP president, for the Working Draft Brewery "care package." (Guess he's buying at the campfire for the Peshtigo Flowage trip.)
Dennis Janda for both a cribbage board set from Odonata Woodworks and a paddler's writing kit had crafted by our very own Jeff Mazanec.
All silent auction items were donated to NEWP.