NEWP has secured two group camping permits for Apostle Islands Group Campsites this year and is finalizing plans for this year's trips.
Trip 1 will launch from Red Cliff Marina (Legendary Waters Resort) and travel to Oak Island Group Site A on Friday July 29; returning to Red Cliff Marina on Monday August 1. 

Trip 2 will launch from Little Sand Bay and travel to Sand Island Group Site A on Thursday August 18; returning to Little Sand Bay on Sunday August 21.
Group camping permits require a minimum of 8 and allow a maximum of 21 participants. However, learning from past trip experience, NEWP intends to limit the size of each trip to fourteen participants with an option to extend to sixteen if necessary to provide a stronger balance of experienced paddlers. Although participants must meet the stated experience, boat and equipment criteria stated on this page, NEWP intends to include three or four Apostle Island "first-timers" in each trip.
(Please note that some of the trip details are still in the planning stages and may be updated.)
Miles: varies each day
Challenges: weather; packing ALL gear into kayaks; possible long paddle days
Fee:
$35 to join the trip
-OR-
$60 to join the trip and participate in the group meals 
Forms:
NOTE: You MUST be a current member of NEWP and ACA. To join, see the membership page.
Payment:
SAFETY FIRST

All participants must wear a personal flotation device (PFD or lifejacket) at all times while on the water.
No alcoholic beverages are allowed on the paddle or during lunch stops.
Current Participant List:
(Names in standard font are registered; italicized names are participants pending full registration.)
Trip 1: 7/29 to 8/1 (Oak)
Jeff Mazanec

Angie Lent

Julie Johnson

Dan Dallich
Renee Dallich
Chelsea Daniels
__
__
__
__
__
__
__
__
Chris Olson
__
Trip 2: 8/18-8/21 (Sand)
Jeff Mazanec
Jerry Rohloff
Joanne Gorski
Linda King
Scott Thomson
Matt Ashauer
__
__
__
__
__
__
__
__
Chris Olson
__
Wait List:
NEWP club trips provide an opportunity for experienced paddlers together with newer paddlers to safely enjoy a few days of great paddling and camping in the beautiful Apostle Islands. For many participants over the years, our club trip has been a "first" experience paddling extensively in the Great Lakes, and often also for camping with only the equipment and supplies that can be packed into a kayak. Destinations and even group campsite locations are selected to offer a variety of paddle destinations, hiking and other activities to provide options in response to inclement weather or challenging paddle conditions. Ken Braband produced a short video clip from our
2019 trip to Sand Island
. And here's the
long version
which includes interviews with participants. For more information check out the
Apostle Islands website.
Trip Plan Information
Plans for two Apostle Islands trip this year are set:
Trip 1: Launch Friday July 29, camp on Oak Island Site A through Sunday July 31 and return on Monday August 1. Trip Leaders are Jeff Mazanec and _____.
Trip 2: Launch Thursday August 18 on Sand Island Site A camp through Saturday August 20 and return Sunday August 21. Trip Leaders are Jeff Mazanec and Scott Thomson.
Participant lists on this page will be updated as registrations are confirmed and we will maintain a wait list if necessary. 
Trip 1 Timeline
Travel to Bayfield, WI on Thursday July 28 and spend the night in local camping or hotel accommodations. Check Trek and Trail in downtown Bayfield for last minute paddling or camping needs. Optional group dinner at 6:30 PM.
Launch day Friday July 29: Breakfast at Manypenny or other local restaurant,

then travel to 

Legendary Waters Resort and Casino in Red Cliff (parking fee) for a 10:00 AM launch to Oak Island Group Campsite A. (5-1/2 miles) Set up camp, share dinner and enjoy island life!
Days 2 and 3, Visit Raspberry Island lighthouse, Manitou Island Fish Camp; other islands or other local attractions. Extensive hiking trails are available on Oak Island.
Return day Monday August 1  – Break camp and return to Red Cliff Marina; pack up and drive home.
Trip 2 Timeline
Travel to Bayfield, WI on Wednesday August 17 and spend the night in local camping or hotel accommodations. Check out Trek and Trail in downtown Bayfield for last minute paddling or camping needs. Optional group dinner at 6:30 PM.
Launch day Thursday August 18:  Breakfast at Manypenny or other local restaurant; dive to Meyers Beach for a mainland sea caves tour (6 miles), then drive to Little Sand Bay;  pack up and paddle to Sand Island Site A (3-1/2 miles).
Days 2 and 3, visit Raspberry Island lighthouse, Sand Island sea caves; other islands or other local attractions. Hiking trails and Sand Island lighthouse tours are available on Sand Island.
Return day Sunday August 21 – Break camp and return to Little Sand Bay; pack up and drive home.
Pre-Launch Night Lodging: On your own – we'll share lodging options for those that wish to share a room. We've had good experience with local camping, Bayfield lodging and at the Legendary Waters Resort at the Red Cliff launch site.
Apostle Island Group Campsite Information – Oak Island Site A
This site is 1.5 miles southeast from the Oak Island dock, situated atop a high bank above the sandspit at the southern tip of the island. Vault toilet facilities are available, with 2 picnic tables, fire ring and food locker. Well water is not available at this site so we will filter our own water supply.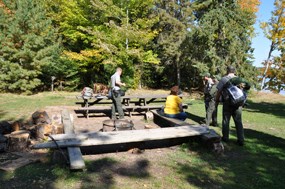 Apostle Island Group Campsite Information – Sand Island Site A
This site is 200 yards south of the East Bay Dock. There is no direct beach access from this site. 2 picnic tables, a fire ring, food locker and vault toilet are nearby. Well water may be available near this site, but we will also be prepared to filter our own water supply. 
Participant Qualifications and Preparation: To ensure participants meet fitness qualifications and equipment requirements, all participants must complete at least one two-hour group paddle. This will:
Expose the participant to the physical requirements of an extended crossing. We will be prepared to stay in the kayaks for the full trip.
Confirm each participant's ability to make the trip.
Verify that the kayak and equipment are suitable for a Lake Superior trip.
Practice/test paddle schedule (check back for updates):

Saturday June 11, 2022: Green Bay paddle – Dianne Christel hosting on Green Bay. 1:00 PM launch at 11153 Shoemaker Point Road, Brussels, WI. 8 mile planned tour of Green Bay shoreline with BYOM "fry out" to follow!
Saturday June 18, 2022: Caldron Reservoir trip (part of the Peshtigo Paddle weekend, 10 AM launch)
PENDING Launch from Communiversity Park (2522 Nicolet Dr, Green Bay, WI 54311)
Contact Mike Stone for weekday and other weekend options
PENDING: Manitowoc Lakeview Park to Two Rivers round trip, 9:30 AM launch. The park address is 301 Huron Street with parking just north of the Manitowoc YMCA and marina on Maritime Drive. We'll launch, paddle one hour toward Two Rivers, and return. A new restroom facility has recently been constructed at this location. 
Others TBD

Other opportunities to paddle in "big water" conditions:
Trip Leaders: Trip Leaders for each trip are identified above.
Trip leaders will have authority over all participants on water trips or activities.
If the trip leaders believe that due to weather or water conditions it is unsafe to proceed with a trip or activity, they may restrict or cancel that trip or activity.
Note that past trip weather and wave conditions have resulted in early return trips or change to land-based daytrips. (NPS adopted stricter "no paddle" rules in 2021 that may apply in certain situations.)
Safety Considerations
Water Crossings, Trips and Activities:

No solo on-water crossings, trips or activities will be allowed.
All on water activities will be done in groups with designated lead paddlers. Groups must be three or greater paddlers.

Equipment

Trip leaders have final approval of all participating kayaks and equipment.
All kayaks, equipment and clothing must be suitable for Lake Superior paddling. 
Kayaks must have flotation or bulkheads, deck-lines and be fitted with spray skirts. If the kayak does not have bulkheads the use of and knowledge of how to use sea socks is required.
Inflatable PFDs are not acceptable for this trip.
Participants are encouraged to acquire and become familiar with safety equipment such as paddle floats, radios, tow ropes, spare paddle etc.
Night paddling is not planned, however paddlers should be prepared in case a night paddle becomes necessary. Coast Guard rules require everyone to have a visual light source such as a laser flare or three traditional flares, a sound source (whistle) and a white light source (head lamp) to display in the presence of moving boat traffic.

Paddle Clothing – Lake Superior is COLD!

Practice self and group rescues; review the video Cold Water Boot Camp.
Bring suitable cold water paddling gear, wetsuit, dry suit, splash jacket, gloves, etc.
Dress to confidently function in cold weather and in case of cold-water immersion.

Alcohol and Drugs

NO ALCOHOL CONSUMPTION WILL BE ALLOWED WHILE PADDLING.
NO ILLEGAL DRUGS WILL BE ALLOWED.
Meals and Camping: Participants are responsible for their own camping and cooking. However, we will coordinate "group cook" dinner each night for those that wish to participate. Breakfast, lunch and snacks are on your own. Group dinner meal leaders:
Trip 1:

7/29 Friday – TBD
7/30 Saturday – TBD
7/31 Sunday – TBD

Trip 2:

8/18 Thursday – TBD
8/19 Friday – TBD
8/20 Saturday – TBD
Black bears are active in the Apostle Islands and occasionally present a problem. Steel "bear boxes" are provided at the group campsite and must be used to store all food, toiletry or clothing that smells of food.
Trip Goal: The trip goal is to have a fun, safe outing. Because of the nature of Lake Superior, safety will be the primary factor. Due to possible weather and wind conditions on Lake Superior, there is no guarantee that events or activities will happen as planned. Participants must be flexible and be prepared for changes in events and timing. 
Park Rules: All Apostle Island National Lakeshore rules must be followed. All participants will be expected to follow the "Leave No Trace" practices. Burning of garbage, cigarette butts or other waste is not allowed in the fire area.
Questions? Contact Jeff M. at jeffm@newp.club.
Participants Must:
Be a current ACA and NEWP member.
Have taken a NEWP class or be known by one of the lead paddlers to have the requisite skills and training for the planned trip.
Complete the event form, ACA waiver and submit the event fee.

The fee will cover event expenses and purchase of trip safety equipment.
In the event a participant cannot make the outing and a qualified replacement is willing to take their place, the fee will be refunded.
If the event is cancelled due to conditions beyond our control, any remaining funds after paying expenses will be refunded proportionately. The participant can choose to donate their refund to the club for the purchase of safety equipment.