July 15-19th, 2023; Group camping at William G Lunney Lake Farm County Park
Miles: vary each day
Challenges: Weather, possible long paddle days, obtaining better pictures of the Capital building than I did, and potential for (based on padding location): wave conditions, elevated boat traffic, and possible short portages.
Meet: At the campsite and help determine where to paddle each day.
Fee: FREE! NEWP is covering the cost of the group campsite.  Meals and other costs are your responsibility.
Register: NOTE: You MUST be a current member of NEWP and ACA. To join, see the membership page.
SAFETY FIRST
All participants must wear a personal flotation device (PFD or lifejacket) at all times while on the water.
No alcoholic beverages are allowed on the paddle or during lunch stops.
Current Participant List:
(Please confirm your club membership status and complete the trip forms above.)
Joanne Gorski
Michael Stone
Fay Lau
Mary Ebeling
Paul Reckner
Michael Bartnik
Ashley Barkow
Robert Thomas
Carolyn Crist
Deb Miranda
Alison Dallich
Keith Crist
Ashley Kate Barkow
Jodie Bartnik
Join us for a trip to the Madison chain of lakes and the Yahara River that connects those lakes. In addition to a variety of kayak day trips and camping, Madison provides a variety of outdoor and indoor activities. Lunney Park, itself, offers a wildlife pond, observation tower, and paved pedestrian and bicycle trails (pass required for biking). Paddle destinations such as Olbrich Botanical Gardens, UW Madison's Memorial Union, and the stunning water views of our Wisconsin State Capital abound.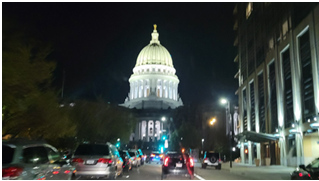 This event is for NEWP members only (joining is easy!). An ACA Waiver is also required.
Everyone will be on their own for meals, however, a group meal could be organized by the group if so desired.
There is a limit of 25 campers in the group site. Check in is 3:00 pm on the 15th. Check out is 2:00 pm on the 19th. Individual sites in the main campground are also available to reserve through the Dane County Parks page. For those that want to paddle, but not camp; there are a variety of hotel options nearby.
Questions: Email Jodie Bartnik
Event Coordinator(s) will coordinate group paddling activities based on group preferences, participant abilities, and conditions.
Paddle Trip Venues and Options:
There are a large number of options available in and around Madison for trip options. As a gathering, rather than a "trip", self-led separate and independent paddling activities may develop based on participant preferences. However, trip leaders will be designated for specific group paddles to promote group safety.
Equipment and Paddle Clothing:
Trip leader(s) for group paddles will have final approval of all kayaks and equipment for the specific paddle venue and conditions.
All kayaks, equipment and clothing must be suitable for destination and conditions. Recreational kayaks, SUPs, canoes, and kayaks with only one bulkhead are not suitable for most open water venues, although could be used on the smaller lakes and protected bays.
Although night paddling is not planned, paddlers should be prepared in case a night paddle becomes necessary or desirable (The lit capital building as seen from the water at night is amazing!).