Rock Island rarely disappoints and the NEWP trips to Rock Island seem to get better and better.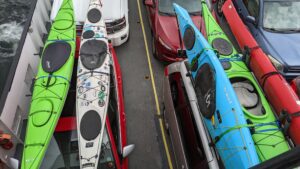 On 9 June 2022, 23 NEWP kayakers left from Northport on the Door County mainland heading to Rock Island adventures. Six paddled 15 miles in open water across Death's Door to "The Rock" while the others opted to take the faster Washington Island Ferry to Washington Island and then paddled two miles from Washington Island to Rock Island.
There was great jubilation when the two groups of paddlers met at the Jackson Harbor launch at north Washington Island. Once united, this large group of friends paddled together across crystal waters to the magic of Rock Island and the majestic reception of the grand white stone boathouse built nearly 100 years ago. It remains one of the many outstanding landmarks of the island today.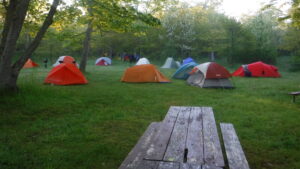 Once situated at our expansive group campsite, several different day trips were planned. There was something for everybody. One group paddled the six miles around the island. Another group weathered the 13 miles to St. Martin Island and back. Another group paddled 10 miles round trip to Schoolhouse Beach on Washington Island.
Everyone took the opportunity to hike the wooded path to the other side of the island to visit the Pottawatomie Lighthouse, the oldest light station on Lake Michigan. We climbed the near vertical wooden steps to the top of the lighthouse where the kaleidoscope shaped Fresnel lens is the ruler of the tight lighthouse perch. From this vantage, it seems you can see nearly the entire planet without moving your feet.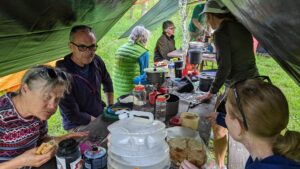 On Friday evening, we all enjoyed an international smorgasbord. Each of us made (or brought) a food from around the world to share. We had Italian pizza, Norwegian sweetbreads, Mexican burritos, oat bars from Germany, Japanese curry, American wild rice, and several different kinds of Indian dishes and curries. It was a delightful event with so much camaraderie and delicious food.
We even had a day of rain that encouraged us to explore the historic richness of the boathouse and library, spooky graveyard, and other historical features of the island.

The nights provided us with spectacular sunsets as the orange sun melted into the distance of Lake Michigan and painted reflections through the tall church-like windows of the stalwart boathouse with its red terracotta tile roof. All visitors to the island gathered to watch the short-lived glory.
Finally on Sunday, we had to turn our backs to the joys of Rock Island and aim the pointed bows of our colorful kayaks south toward Washington Island and the island-hopping trip homeward.