August 6: Manitowoc YMCA parking lot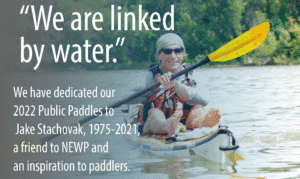 READ MORE
Miles: 6
Challenges: Distance.
Meet: After 9:00 AM at Manitowoc YMCA
Launch: 10:00 AM;
Lunch: Manitou Park, pack a lunch; restrooms available.
Land: At the launch location; note – no restroom facilities are available
Fee: $15 per adult, $10 for NEWP members. Under age 16, free with an adult. Fee covers ACA event insurance and marketing costs. No one is paid; proceeds support NEWP programs and equipment.
SAFETY FIRST

All participants must wear a personal flotation device (PFD or lifejacket) at all times while on the water.
No alcoholic beverages are allowed on the paddle or during lunch stops.
BOAT RENTALS

Members of NEWP can arrange to borrow a boat by contacting a member of the Board. Several boat rental businesses operate in the region.
We are returning to the city of Manitowoc to paddle the Manitowoc River.  We will launch from the Manitowoc YMCA, paddle upriver to Manitou Park and stop for lunch (pack your own lunch).  After lunch, we will paddle back to the YMCA.  If conditions allow, and there is interest, we will paddle out onto the big lake.
This paddle trip will be an out-and-back round trip from the YMCA parking lot, instead of a one-way trip to avoid shuttling.