Member-only events for 2022
June 9-12
July 29 – August 1
August 11-14
August 18-21
September 7-11
SAFETY FIRST

All participants must wear a personal flotation device (PFD or lifejacket) at all times while on the water.
No alcoholic beverages are allowed on the paddle or during lunch stops.
Saturday June 11, 2022: Green Bay Paddle
1:00 PM launch at 11153 Shoemaker Point Road, Brussels, WI. 8 mile planned tour of Green Bay shoreline with BYOM "fry out" to follow! Hosted by Dianne Christel. 
Sunday, July 24, 2022
What:  Long Distance Paddle Prep Tour and Apres-Paddle Party
Trip Leader:  Mike Stone Cell 920-562-2302
Date: 24 July 2022
Time:  11:00 AM meet
Distance: 14 miles
Where: Sugar Creek Park, Town of Gardner (44.78688627840809, -87.6602078320384)
Launch fee:  There is a $5.00 launch fee at Sugar Creek Park.
This will be a 14 mile paddle from Sugar Creek Park to Ken and Mary Braband's home on the Bay of Green Bay.  Estimated speed 3 miles per hour.
Estimated duration 5 hours.  There is  public potty break at Red River County Park
A shorter 7.5 mile trip is possible from the end of Oakwood Road (with parking for 2 cars) and at the end of Shoemaker road (side of roads parking.)  Approximate group meet time is 1:30 PM.  See the long-paddle group and come out to join us.  We will not stop  at this landing, so watch for us and paddle out to join us.
Apres-Paddle Party at Ken and Mary Braband's home:  We arrive at Ken and Mary Braband's lovely home at 5129 Edgewater Beach Road at approximately 4:00 PM.  The Brabands will host a party for our group.  A party cost donation will be appropriate.
Contact Mike Stone with questions.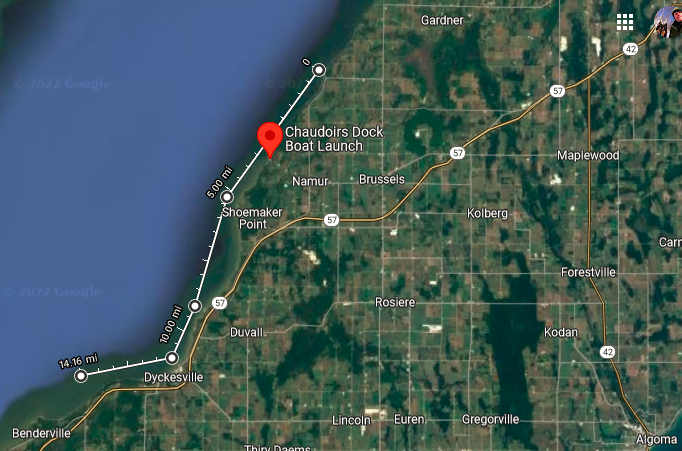 Date: TBD
Time and location are yet to be determined.
PENDING: Manitowoc Lakeview Park to Two Rivers round trip, 9:30 AM launch. The park address is 301 Huron Street, Manitowoc, with parking just north of the Manitowoc YMCA and marina on Maritime Drive. We'll launch, paddle one hour toward Two Rivers, and return. A new restroom facility has recently been constructed at this location.
Contact Mike Stone for weekday and other weekend options