The first couple of evening trips we attempted we called "moonlight paddles," even though we never saw the moon break through the clouds.
Last July, our "Oshkosh at Night Paddle" landed in the dull light of dusk.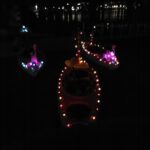 By moving the night paddle to Sept. 23, when shortening days move sunset earlier, we finally got it right. The 20 participants experienced a real paddle in the dark.
At our 6 p.m. scheduled launch, our white lights were barely visible in the daylight.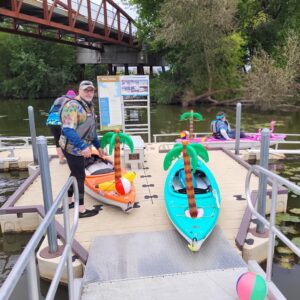 A few boats draped with Christmas lights promised a show to come.
Staying river right, we followed the Fox River downstream to the rusty railroad drawbridge. Many in the group paddled under the massive counterweight that makes the bridge operation go smoothly. I'm sure I wasn't the only one calculating how quickly I could get out from under it if I saw any movement.
We have covered less than one-fourth of our route and the darkness is settling quickly. The beams from our flashlights now pierce the darkness as our own forms fade to black.
The selection of boats is extreme this night and so is the speed they give their owners. Sleek, long sea kayaks slice through the river. Flat-bottomed boats half their length offer more stability, but they push a lot of water and are difficult to keep on a straight line.
By the time we reach the Hwy. 21 bridge at the northern limit of our trip, the lights are about all that's visible of us. The Fox's current gives us a gentle push back to our put-in spot under the Oshkosh Riverwalk trailhead on a nearly windless evening.
We already know what this paddle will look like next year.